Type of Protection: Flameproof (Explosion proof) Ex-d or Increased Safety Ex-e,
Area Classification: Zone 1 & 2 or Zone 2,
Gas Groups: I, IIA, IIB and IIC (Please refer detailed product specification),
IP Protection: Minimum IP 55 or IP 65/66,
Apparatus standard: For Ex-d - IS 2148/1981 and Ex-e IS 6381/1972 & IS 8224/1976 (Recertification based on IEC 60079 series is under process),
Material: Cast Aluminium Alloy LM-6,
Finish: Corrosion Resistant Epoxy paint Shade 631 of IS 5,
Glass: Heat and Impact Resistance and Toughened Glass TYPE "A". Make - Dome Glass for Well glass fitting - BOROSIL,
Wire Guard: Mild Steel Plated & Powder Coated of 3 or 5 mm Dia,
Gasket: Endless Neoprene minimum 3 mm dia.
Hardware: All flame path - SS Allen Bolt or Threaded. All other SS,
Reflector: Alluminium Anodized,
Mounting: Different for different type of fitting,
Voltage: 230V 50 Hz AC,
Lamp Holder: Based on Lamp Type like 2Pin / 3Pin / ES27 / ES40 / Bi pin or suitable for various PLL / CFL lamp, Cable Entry Size / No.: 3/4" BSCon. / 2,
Earthing: External 2 Nos. of size M6 & Internal 1 No. of size M6, Wire Size: As per lamp rating minimum 1.5 sq. mm. Cu flexible Fiber Glass Insulated,
Accessories: (OPTIONAL) Lamp, Cable Gland & Stopping Plug, External Reflector, Mounting Hardware.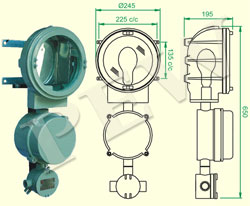 PEW/BH/038 Ex-d/WP Bulk Head 80, 125W HPMV/70W MH Lamp Integral.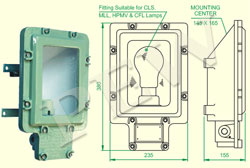 PEW/BH/007 Ex-d Well Glass 200W GLS/80, 125W HPMV/70W MH/160W MLL / 2X23W CFL Lamp Non Integral.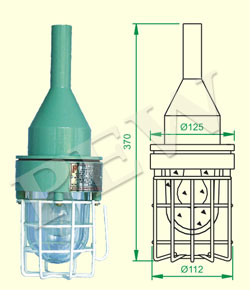 PEW/HL/008 Ex-d/WP Hand Lamp 60W GLS Lamp.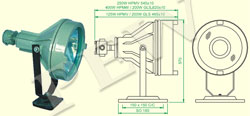 PEW/FDL/031 Ex-d/WP Flood Light 80/125/250/400W HPMV Lamp Non Integral.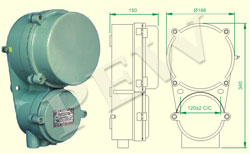 PEW/CGB/029 Ex-d/WP Control Gear for 80/125/250/400W HPMV, 70/150W MH Lamp.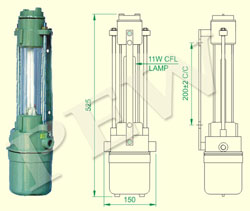 PEW/FTL/016 Ex-d/WP Emergency Tube Light 1 X 11 PLL Lamp with Ni-Cd Rechargable Battery.