Type of Protection: Flameproof (Explosion proof) Ex-d or Increased Safety Ex-e,
Area Classification: Zone 1 & 2 or Zone 2,
Gas Groups: I, IIA, IIB and IIC (Please refer detailed product specification),
IP Protection: Minimum IP 55 or IP 65/66,
Apparatus standard: For Ex-d - IS 2148/1981 and Ex-e IS 6381/1972 & IS 8224/1976 (Recertification based on IEC 60079 series is under process),
Material: Cast Aluminium Alloy LM-6,
Finish: Corrosion Resistant Epoxy paint Shade 631 of IS 5,
Glass: Heat and Impact Resistance and Toughened Glass TYPE "A". Make - Dome Glass for Well glass fitting - BOROSIL,
Gasket: Endless Neoprene minimum 3 mm dia.
Hardware: All flame path - SS Allen Bolt or Threaded. All other SS,
Mounting: Wall / Structure mounting arrangement using Bolt of minimum M8,
Voltage: 50 Hz AC supply I or III phase Maximum 500V,
Cable Entry Size / No.: Multiple Cable Entry and inlet for non electrical sensor like air, liquid, gas for various instrument like pressure switch, thermostats etc. as per customers specification,
Equipment Type: Enclosure suitable to mount Mechanical / Electrical / Analog / Digital instrument with one or more glass windows of standard size 92 X 92 mm. or 100 X 50 mm. or maximum size 300 X 300 mm with various combination of control element like Push Buttons, Selector Switches, Potentiometer
or electronic soft touch key as per customers specifications. We can provide these enclosures coupled together to form multi compartmental enclosure as per requirement,
Size: Minimum Dia 100 x 55 mm to 625 x 425 x 225 mm Internal (Please refer detailed Product Specification),
Earthing: External 2 Nos. of size M6 & Internal 1 No. of size M6,
Wire Size: Available with or without wiring as per customer specification,
Accessories: (OPTIONAL) Cable Gland & Stopping Plug and Mounting Hardware.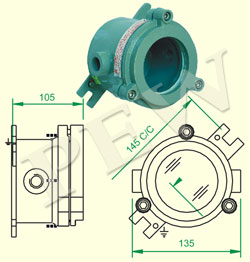 PEW/DI/037 Ex-d/WP Size Dia 95 X 55/120 mm Internal Glass Window Dia 75mm (Direct Entry)..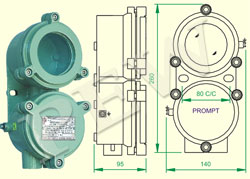 PEW/DI/020 Ex-d/WP Size Dia 95 X 55/120 mm Internal Glass Window Dia 75mm.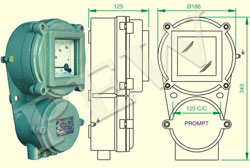 PEW/DI/029 Ex-d/WP Size Dia 165 X 55/120 mm Internal Glass Window 72x72 / 100x50 mm with control components on cover or 92x92 mm.